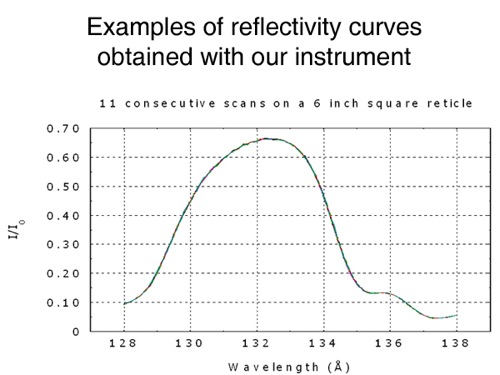 LPR1016 EUV Reflectometer
This product measures the reflectivity of multilayer-coated mask blanks, reticles, wafers or other samples over the wavelength range of interest for EUV lithography. Normally this will be the range of molybdenum-silicon multilayers, centered on 134.5nm, however the reflectometer can operate over the range 10-15nm. The EUV light in this instrument is produced by a laser plasma source in which a visible laser is focused onto a solid targe. The reflectometer is equipped with a clean vacuum robotic sambple transfer system for the metrology of EUV mask blanks.

RET 125-75 Resist Exposure Tool
This new tool is designed to facilitate research on candidate photoresisits for EUV lighography. It uses a novel optical system to illuminate the resisit-coated wafers or reticles for outgassing studies. The tool simultaneously exposes a witness sample and the resist while continuously monitoring in-band reflectivity, allowing the users to evaluate the change in reflectivity resulting from outgassing of the photoresisit and the deposition of photo-modified products on the mirror. The system is equipped with a high sensitivity UHV RGA detection system to allow fast data acquisition rates to quantify resisit outgassing products.