Corning Tropel is the world leader in precision optical subsystems and advanced-form metrology instrumentation for the semiconductor, data storage, automotive, and industrial markets.

Our high-performance optical components, subsystems, and metrology instruments are specially designed and manufactured for wafer, photomask, and semiconductor equipment suppliers, complementing Corning's diverse technology portfolio and expanding the company's commitment to the metrology instruments market.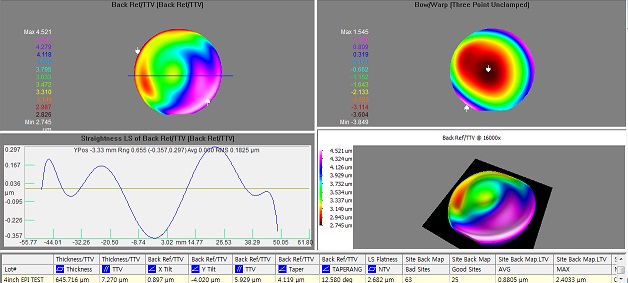 FlatMaster
The Tropel FlatMaster provides industry-leading performance of surface form measurements for precision component manufacturers. Our non-contact optical technique records the entire surface in seconds. The FlatMaster offers five nanometer resolution and a standard accuracy of 50 nanometers. It rapidly and accurately measures flatness, line profile, radius and other surface parameters from a variety of surfaces.

Several standard versions of the FlatMaster are available to optimize accuracy over different component size ranges. The FlatMaster 40, 100, and 200 measures parts up to 40 mm, 100 mm and 200 mm respectively. Customizing is available to achieve your specific performance requirements whether it is for increasing dynamic range, accuracy, or to include component handling fearures.

UltraSort
The Tropel UltraSort continues our 25 year tradition of providing metrology solutions to semiconductor wafer manufacturers. Designed for volume wafer manufacturing, this automated system offers the utmost in rapid, repeatable, accurate, non-contact qualification of silicon and alternative substrate wafers.

UltraSort is an automated wafer flatness analysis system that includes cassette-to-cassette wafer handling with user configurable sorting capability. This Class 100 cleanroom compliant system intergrates a grazing-incidence interferometer with industry standard robotic handling. The UltraSort can be configured to measure wafer sizes from 2 inches to 8 inches in diameter, and is well suited for a variety of different matrials including gallium arsenide, sapphire, quartz, germanium and silicon.

UltraFlat
Corning Tropel Corporation designed the Tropel UltraFlatTM 200 Mask System specifically for the photomask industry. It delivers the lowest measurement uncertainty for ever-tightening mask flatness specifications. Shrinking device features require not only flatter wafers, but flatter masks. The UltraFlat system is used to measure flatness of photoblanks and photomasks throughout every stage of manufacturing and use, including, substrate polishing, coating and patterning to analyze film stress, and verification.

UltraFlat system utilizes near-normal incidence interferometry, rock solid structural design, state-of-the-art optical fabrication techniques and Tropel's renowned phase shifting analysis software to deliver 20 nanometer measurement uncertainty. The system is NIST traceable and provides measurements that conform to SEMI standards. An automated photomask handling and measurement configuration is also available.